What Is Acupuncture?
Acupuncture is a traditional Chinese approach in which the internal energy navigates throughout the body alongside the channels known as meridians. Whenever an illness occurs, the normal flow of energy gets disrupted. This medical practice is helpful in resolving the health issues like back pain, neck pain, knee pain and migraine problem in humans.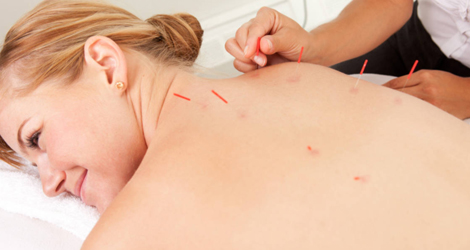 What to expect on your first visit?
At Sandalwood Physio, we believe in traditional and natural means of body healing. Our goal is to help patients in regaining their health using acupuncture. On your first visit, our team of acupuncturists in Brampton will evaluate your problems and health issues to determine your actual condition. We'll record the problems you are facing and from how long. After providing the acupuncture treatment, we advise our patients to have a healthy lifestyle, positive attitude, proper diet and regular exercise.
Whenever an acupuncture treatment is done, the relaxation response in the ailing body part gets stimulated. It works by affecting the nervous system and activating the certain brain chemicals. The acupuncture needles are responsible for affecting the certain trigger points that stimulate the relaxation in muscles. In this way, the pain and muscle tension is reduced and relieved.
Conditions Treated
Low Back Pain
Neck Pain
Sciatica
Tennis Elbow
Knee Pain
Shoulder Arthritis
Muscle Sprains
Facial Pain
Headache
Dental Pain
Rheumatoid Arthritis
Morning Sickness
Nausea & Vomiting
Postoperative Pain
Hypertension
Hypotension
Renal Colic
Chemotherapy Allergy
Hay Fever
Bacillary Dysentery
Primary Dysmenorrhea
Acute & Chronic Gastritis
Traditional acupuncture
Chinese medicine
Auricular acupuncture
Medical acupuncture
Basic needling
Trigger point acupuncture
Call Us Today To Schedule An Acupuncture Treatment!