Ankle fracture and ankle sprain are common ankle injuries that athletes often suffer from. An ankle brace is natural, most effective and easy solution to get relief from ankle pain. We, at Sandalwood Physiotherapy, offer ankle braces in Brampton & Caledon that support the various ankle problems including: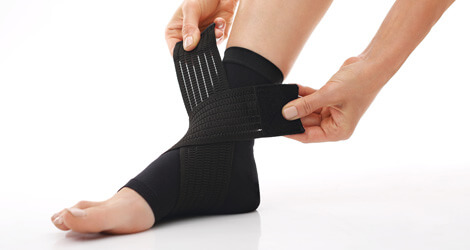 Ankle Osteoarthritis
Achilles Tendonitis
Ankle Swelling
Sports Injury
The braces are most used by the sports-person to protect their ankle from the injury no matter in which sport they are practicing, be it is football, basketball, volleyball, rugby or more. Use of high-quality ankle braces can help fast recovery from an injury as it compresses the weakened muscles and reduces the swelling.
What Causes To Ankle Injury?
From losing balance to wrong landing off while jumping, so many ways are there to injure your ankle. If you are a player, a messy crossover move can cause ankle injury. Other reasons could be:
A fall that ends up twisting your ankle
Walking, running or exercising on an uneven surface
When someone landed on your foot suddenly
Improper shoe size is also responsible for delivering pain to your ankle.
Ankle Braces Benefits
Having sprained ankle will end up delivering swelling, tenderness, pain, bruising and stiffness. An ankle brace can heal these all issues effectively.
In case you are already recovering from the recent chronic ankle injury, the ankle supports can help to speed up the treatment and prevent further damages.
The braces can help to prevent your ankle from the further twists by providing support while doing regular activities.
Get Ankle Braces For Every Need & Budget!