At Sandalwood Physiotherapy & Wellness, we understand the crucial role that your feet play in your overall well-being. Our specialized chiropody services are designed to cater to the unique needs of your feet and ankles, promoting better mobility, comfort, and quality of life.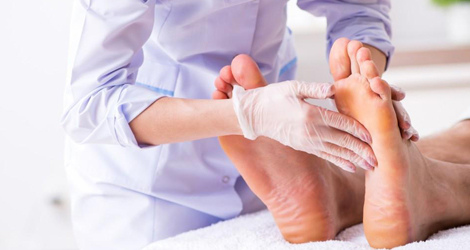 What is Chiropody
Chiropody, also known as podiatry, focuses on the diagnosis, treatment, and prevention of foot and ankle disorders. Our certified chiropodists are skilled professionals who specialize in assessing and managing a wide range of foot-related conditions, ensuring that your feet receive the attention and care they deserve.
Our Chiropody Services
Foot Pain Management: Whether you're dealing with plantar fasciitis, bunions, or other sources of foot pain, we're here to alleviate your discomfort and improve your quality of life.
Nail Care: From ingrown toenails to fungal infections, our chiropodists are skilled in addressing nail-related issues with precision and care.
Diabetic Foot Care: Individuals with diabetes require specialized foot care due to their heightened risk of complications. Our chiropodists offer comprehensive diabetic foot assessments and guidance.
Orthotics and Footwear: We design custom orthotics to provide support and correction for various foot conditions. Additionally, we offer guidance on proper footwear to promote comfort and prevent issues.
Take the First Step Toward Healthier Feet
Don't let foot and ankle issues hinder your daily life. Experience the transformative effects of quality chiropody care at Sandalwood Physiotherapy & Wellness. Take the first step towards healthier feet by scheduling a consultation with our expert chiropodists.
Our chiropodists boast extensive experience and in-depth knowledge in the field. They are equipped to handle various foot issues, from common ailments to complex conditions, ensuring accurate diagnoses and effective treatment plans. We provide a holistic approach to chiropody care. Our services encompass thorough assessments, personalized treatment plans, and patient education, ensuring you're actively involved in your foot health journey.
Schedule Your Chiropody Consultation Today!