Whether you are suffering from severe problems like venous disease and varicose veins or dealing with tired legs due to prolonged sitting or standing, compression socks can help to heal these all issue effectively. At Sandalwood Physiotherapy, we provide you with compression socks in Brampton and Caledon that prevent the occurrence of various problems such as: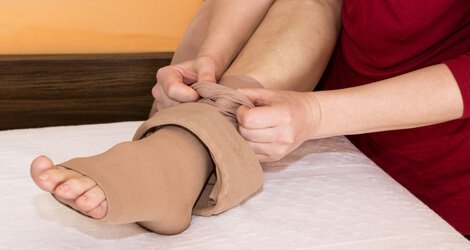 Varicose Veins
Spider Veins
Lymphedema
Stasis Skin Changes
Edema
Why Wear Compression Stocking?
They help to get relief from aching and heaviness in your legs.
They reduce swelling in legs and prevent blood clots that occur after an injury or surgery.
Athletes and pregnant women used to wear compression socks to get comfort.
How Compression Stocking Work
Compression socks squeeze tight at the ankle to promote the blood flow in the legs and thus, it helps in avoiding the feeling of fatigue and aching caused by improper blood circulation. It reduces the swelling and helps to:
Lessen cramps in the calves
Reduce muscle strains
Improve blood circulation
Reduce pain in the legs
Compression socks should never be worn during skin infection, immobility, uncontrolled congestive heart failure and several similar types of issues. First, consult with the specialist before buying the compression stockings in Brampton & Caledon.
At Sandalwood Physiotherapy, we diagnose your condition and provide the right compression stockings. To discuss your requirements, schedule a free consultation with us today.
Call Us Today To Get A Wide Variety Of Compression Stocking!