Your knees perform as joints between your ankle and hip, and when an injury occurs, the knee joints stability is compromised. The custom knee braces in Brampton and Caledon are specially designed to support your knee or unload the areas of your joint.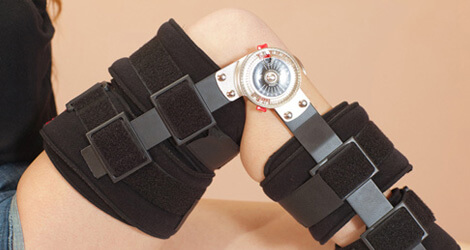 At Sandalwood Physiotherapy, our bracing specialists inspect your knee condition and provide you with the right custom knee brace that helps you in returning routine activities and manage the symptoms of common knee problems.
Conditions When You Need A Knee Brace
Hyper-extension
MCL/LCL Instabilities
ACL Or PCL Reconstruction
Osteoarthritis
Knee Ligament Injury
Patellofemoral OA
Meniscus Injury
Muscular Dystrophy
Rheumatoid Arthritis
Huntington's Disease
Parkinson's Disease
General Mobility Assistance
The braces significantly reduce pressure throughout your knee and empower your leg muscles to work harder or do more actively. When you bend your leg, levitation stores the energy and returns that energy to support leg extension.
Common Types Of Knee Braces
Standard Knee Brace is designed to heal the pain, swelling and instability during common knee injuries.
Hinged Knee Brace provides an extra level of support and it is a perfect choice for an active individual.
Patella Knee Straps enables you to retain a full range of motion while performing the athletic activity.
Compression Knee Supports are designed to boost the flexibility and comfort of your knee.
No matter, you need custom knee braces to heal or prevent the common knee issues, at Sandalwood Physiotherapy, we provide you with right knee brace in Brampton & Caledon after inspecting your knee problems. Feel free to contact us & discuss your needs with us.
Need Help In Choosing Knee Brace? Contact Us Today!