What Is Physiotherapy?
Physiotherapy consists of a variety of treatments and physiotherapy exercises that are believed to rejuvenate the rehabilitation process at the onset of injury or pain. Physiotherapy deals with the development, maintenance, and restoration of body functioning abilities.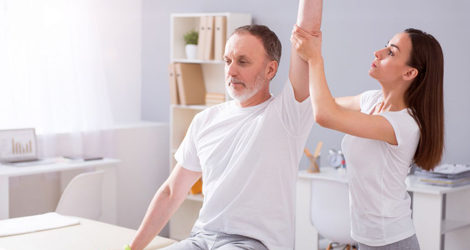 It is helpful in treating and diagnosis a number of physical conditions that include a minor injury to major fractures.
What to expect on your first visit?
At Sandalwood Physio, we have a team of registered physiotherapists in Brampton who are committed to treat your stretched muscles both efficiently and effectively through a series of exercise. Your first visit will involve an initial assessment that will help us in determining the source of your symptoms and the best approach to treat them.
To determine the treatment, we'll evaluate your motion, muscle strength, postural alignment and body mechanics. After this, a personalized care plan will be designed to help you meet your individual recovery needs. Together, we will establish clear goals and will begin the treatment to provide you relief from the specific injury.
Conditions Treated
Back and neck pain
Headaches & migraines
Carpal Tunnel Syndrome
Myofascial & joint pain
Muscle sprains & strains
Orthopaedic injuries
Post-operative conditions
Weakness or loss of motion
Soft tissue injuries
Osteoporosis
Body misalignment
Spinal dysfunctions
Chronic pain
Fibromyalgia
Sports-related injuries
Work-related injuries
Manual therapy
Therapeutic exercises
Body stretching
Therapeutic modalities
Interferential current
Work hardening techniques
Schedule Your Physiotherapy Treatment Appointment Today!