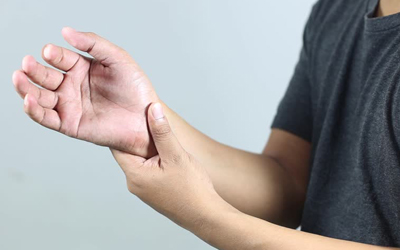 Wrist pain is common as we do several things using our hands. But, if your wrist pain goes untreated, it can lead to long term injury. So, it is necessary to treat the issue on time before it could become difficult to handle. The common symptoms of wrist pain are:
Tingling
Soreness
Clicking
Numbness
Extremely Cold Or Hot
Stiffness
Swelling
Difficult To Move
What Causes Wrist Pain?
Normal Wear & Tear
Overuse Conditions
Injury
Natural Aging Processes
Systemic Diseases
Remember, early diagnosis helps avoid making the situation worse as well as allow you to get quick and complete recovery. However, delay in the treatment can lead to delivering an adverse impact on the joints ability to heal.
Treatment
Wrist Realignment
By manipulating the bones of your wrist to get them back to track, the chiropractor sets the healing process into motion. The Realignment of bones works as a catalyst in your healing. Once the bones are realigned, the inflammation in your bones reduces dramatically.
Wrist Stretching
The stretching techniques include wrist rotation, wrist or finger flexion and hand clenching. These all work to tightening and releasing your tendons and muscles. Apart from improving your wrist functions, the treatment also restores muscle flow to improve your grip.
Thus, chiropractic care provides you with sustainable health by using techniques stretching and manipulation. In order to get chiropractic treatment for your wrist pain, feel free to contact us at Sandalwood Physiotherapy. Our team of registered chiropractors in Brampton provide personalized treatment for common health conditions.